Flexible Lesson Times
My Lesson times are between 9am to 4pm Monday to Thursday and 9am to 1pm Friday meaning you can fit the lessons around your weekly schedule.
At Your Ease
I will ensure that the lessons are enjoyable, so that you learn to drive in a relaxed atmosphere.
Excellent Value
Lessons are just £40 per hour including free local pick up and drop off.
Manual Lessons
Learn to drive in an air conditioned manual dual controlled Toyata Yaris.
Theory Test Help
Free help with your theory test – Theory Test Pro has everything you need to pass first time.
Excellent Pass Rate
I am proud of my excellent pass rate and am an 'A' Grade Driver & Vehicle Standards Agency Approved Driving Instructor.
Best driving instructor in Salisbury! I passed first time with 3 minors. Before learning to drive I was very nervous and didn't want too but by the end of the first lesson Sandra made me feel comfortable. She hasn't shouted at me once which is something I love about Sandra as I don't cope well with that under pressure. She is always happy for a laugh and has a calm demeanour and we can laugh at mistakes afterwards. Sandra writes notes at the end of every lesson to go over at the start of the next lesson which is really helpful to improve on what went wrong and has a life example of every situation that happens. Always challenges your abilities and tailors the lessons to what you need every time. Sandra has taught me to drive not just pass my test so I'm already comfortable driving on the roads by myself. I'll miss having my lessons every week.
After putting off learning for years and having a torrid time with my first instructor Sandra was brilliant! So reassuring and calm, teaches you how to drive and not just how to pass the test (which she does too of course!). I'm such a confident driver, despite only having passed last week first time, all thanks to her. Really clear lessons, plans out what you are going to do each time, and also just a really friendly face to have alongside you. Cannot recommend her enough to anybody, young or old, looking to pass with confidence. (side note: I am autistic and so had a lot of nerves and needed a specific style of teaching and found Sandra perfect for that, so if you are autistic then definitely get in touch!)
Sandra is great, makes you feel very comfortable and is always a good chat whilst also being informative. Definitely recommend especially if you are nervous to start lessons!
I PASSED IT FIRST TIME! I found Sandra in May, after she gave me the first lesson, I knew I got the right teacher! She's funny, excellent, experienced. I'm not a very confident person when it comes to the test sometimes. Sandra just helped me build my confidence through each time and explain everything specifically to me. As a non-native speaker, learning everything new in another country and especially need to remember new rules in another language can be difficult, but Sandra is really patient and help me understand all the road rules clearly! Each time when I learnt driving, Sandra helped me understand road more! I was given the very high compliment from the examiner that I'm an accomplished driver in the test and only had one minor mistake, but I would say it won't be that perfect without Sandra's help! I would 100000% recommend Sandra to anyone wants to learn driving. All you need to do is trust her and practice till your best! Massive thank you to you, lovely Sandra!!
Having had 2 previous instructors and failing multiple times I decided to switch to Sandra, she is without a doubt the best instructor in Salisbury, lessons were always high quality and tailored directly to you. Took 1 test since starting with Sandra and passed first try. Cannot recommend enough, She's got great banter and puts you totally at ease while your learning. 🙌
Lianne Fielding
21/04/2023
Sandra was the best driving instructor I could've wished to have. I was very nervous to begin lessons again after an 8 year break. She made me feel completely comfortable, knew exactly how to explain things when I was struggling and always had a diagram or phrase to help me remember something! Her lessons were well structured, planned and really enjoyable. I will actually miss them! I couldn't recommend her enough
Sandra is a fantastic driving instructor - she is exceptionally patient and kind and really knows her stuff inside and out. Sandra is very thorough and methodical in her approach and she caters to your learning styles and adapts your lessons to whatever you need to spend more time on. She also provided me with a folder full of resources that I felt was paramount to my learning especially in the lead up to my test - it was amazing to have material to reference between lessons and to help solidify what I had learnt. She has put so much effort and time into being the best driving instructor you could have and really knows her stuff and how to make sure you do too! There is never a silly question and she makes you feel at ease straight away and takes the nerves out of learning to drive. She also just a great person and fun to be with and I will miss seeing her every week! Thank you Sandra!
I was recommended Sandra and it was the best decision. She's very patient and calming. Passed first time with her because of her clear ways of teaching. Appreciated the lessons we had as she is the best company and always has a laugh! 😊
Daniel Hartley
22/02/2023
Best driving instructor anyone could ask for!! Really happy I went with Sandra, we always had a good laugh and everything taught was clear so I knew exactly what to do. LEFT LEFT LEFT 😉🤣🤣Thank you again it was a pleasure!
Nicholas Morabito
13/02/2023
After a rocky start with a different instructor, I began lessons with Sandra after being recommended to her by a friend. It was the best decision i've ever made. She made sure that I had learnt something new every lesson and constantly helped me to improve my ability to drive, she led me to a First Time pass with just 2 minor faults. As well as being a flawless teacher she is also one of the most lovely people I had ever met. Our lessons were full of laughs and I am really genuinely going to miss them being the start to my Tuesdays. I highly recommend Sandra to anyone learning to drive, l can assure you that you will not be disappointed. Thank you for everything Sandra.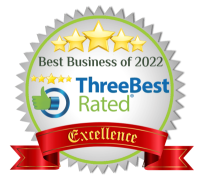 Location
Covering Salisbury and local area
Open Hours
Mon: 9am – 4pm
Tue: 9am – 4pm
Wed: 9am – 4pm
Thur: 9am – 4pm
Fri: 9am – 1pm
Sat: Closed
Sun: Closed
Tuition range
Manual lessons
Free local pick up and drop off
Motorway lessons
Pass Plus
Confidence building
Older drivers' assessment
Theory assistance
Refresher courses
Prices
£40.00 per hour
DVSA Theory Test: £23.00
DVSA Practical Test: £62.00
Pass Plus: Prices generally range from £160 to £200, so check before you book.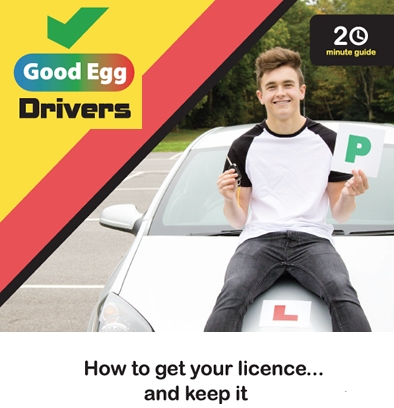 Online partners for learners
Online resources that help you get your licence, and help you keep it! Lots of useful information. Click on the link to view the videos.

"Sandra is one of those rare driving instructors that fulfils what makes a good driving instructor great: having the biggest patience for a student driver whose dyslexic, and autistic. She took my needs on board and made me gain confidence in my ability to read the road and trust myself behind the wheel. Her use of her colourful magnetic cars on a junction board proved essential and useful to my learning- they were fab visual aids. Sandra never lost her spark with me, and believed in my driving abilities. She has been a friend, and I could not ask for anyone better. Thank you for all your help Sandra. I look forward to doing Pass Plus with you. Back for more!"
Sally Mouneimneh
Licence and Test Information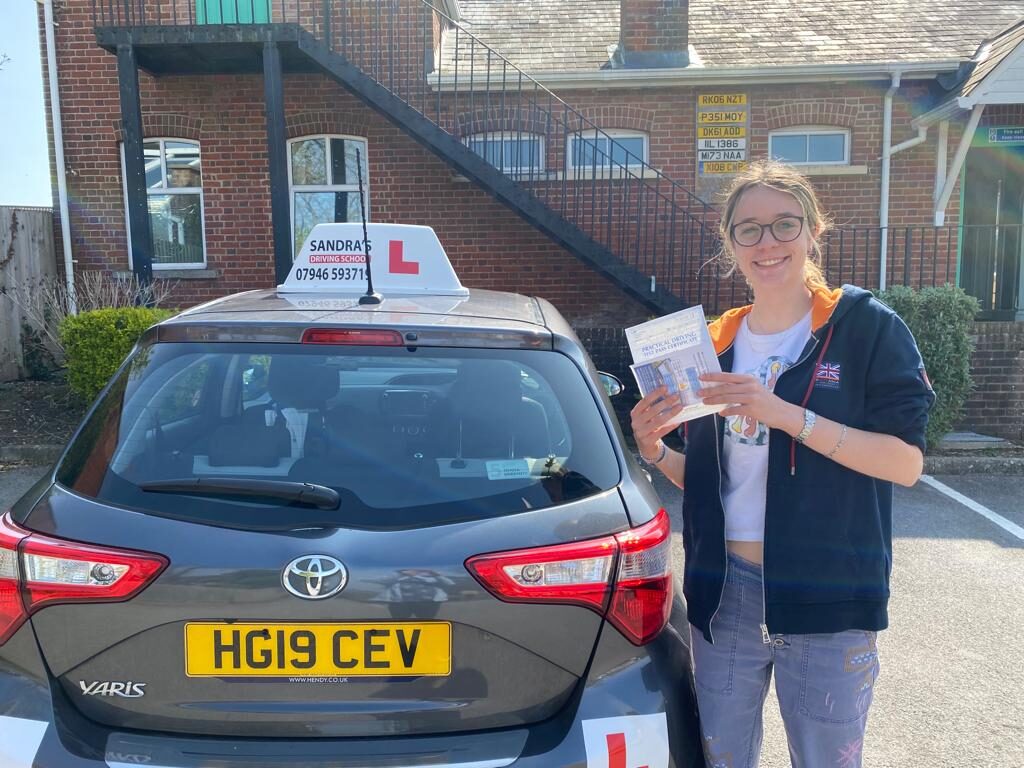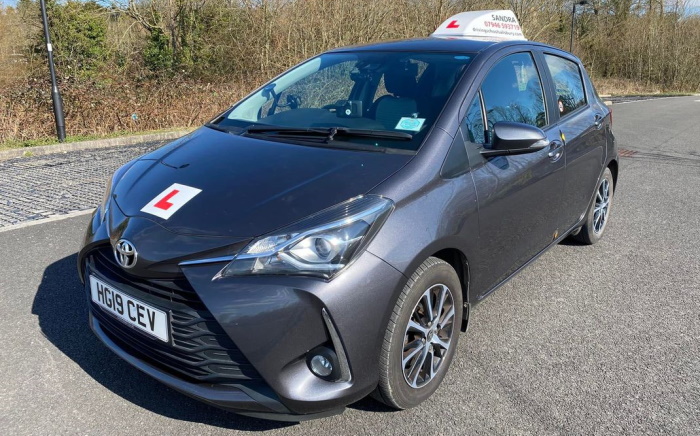 Your Local, Professional, Friendly Driving Instructor
I am quite happy to pick you up and drop you off anywhere in the local area, school, college, work or shops.